After a refreshing summer break the choir is back rehearsing for our October concert on Saturday 7th October, 7.30 at St Barnabas Church, Bexhill.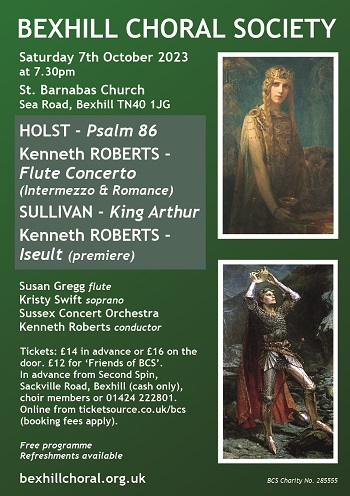 Bexhill Choral Society is proud and excited to premiere a new piece by our Director of Music, well-known musician, conductor and composer Kenneth Roberts. Iseult is an oratorio-style piece for soprano solo and chorus, exploring the story of Tristan and Iseult from Iseult's point of view, and is full of wonderful music and drama. The concert includes another Celtic-inspired piece, with music by Sir Arthur Sullivan from a dramatisation of the 'King Arthur' story, while Holst's moving and poignantly beautiful setting of Psalm 86 and two movements from Roberts' Flute Concerto round out an evening of lovely and unusual music.
Bexhill Choral is joined by soprano Kristy Swift, flautist Susan Gregg, and the Sussex Concert Orchestra, and it promises to be a wonderful evening.
Tickets are £14 in advance from Second Spin in Sackville Rd Bexhill (cash only), from choir members, via 01424 272948, or online from ticketsource.co.uk/bcs (booking fees apply). £16 on the door, and £12 for Friends of Bexhill Choral Society. Programme is included.
Carols and Christmas Music for choir and audience Saturday 2nd December 7.30 at St Barnabas Church
Our Christmas concert is a feast of seasonal music and carols - traditional and modern, familiar and less familar - with the audience invited to join in singing some well-known favourites. As always the choir will be accompanied by the Cinque Ports Brass and organist Nigel Howard.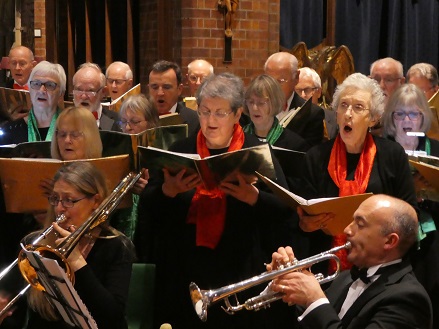 The concert has traditionally been a very popular and well-attended event, and will definitely put you in the right mood for the Christmas season!

New members wanted!


We are always happy to have new members. Like most choirs we would particularly like to have more voices in the lower range of tenor and bass, but welcome everyone to our friendly non-audition choir. There is increasing evidence that singing in a choir brings real health, emotional and social benefits as well as enjoyment, so why not give it a try? Potential members are welcome to attend a few rehearsals free of charge to see if it's right for them, and after our October concert would be the ideal time to try it out.



We rehearse on Wednesday evenings 7-9, usually at Little Common Community Centre, Shepherd's Close, Bexhill TN39 4SQ, or on the 4th Wednesday of each month at St Barnabas Church, Sea Road, Bexhill TN40 1JG, with our renowned Director of Music, Kenneth Roberts, and well-known local pianist and organist Nigel Howard as accompanist.

As well as our concerts, we have other events such as Kenneth Roberts' popular Lecture Recital, and social events, including a Quiz & Ploughman's evening, Christmas lunch, and regular drop-in coffee mornings. To find out more about our concerts and events, or if you are considering joining the choir, call 01424 218565, email info@bexhillchoral.org.uk, or visit our website at www.bexhillchoral.org.uk, or our Facebook page. To hear us, find Bexhill Choral Society on YouTube!



Friends of Bexhill Choral Society

pay an annual membership subscription of £20.00 which entitles them to a discount of £2 on the price of two tickets for each concert, and are kept informed of other events – if you are interested in joining, contact us or come along to a concert and join on the door to get your discount!
---